ECI delivers ELASTIC network solutions to service providers, utilities and data center/cloud providers worldwide. ECI's ELASTIC network solutions ensure open, future-proof, and secure communications. Tailor-made for today, while being flexible enough to evolve with the changing needs of tomorrow.​
But what really sets us apart is the way we do it – beyond the role of a traditional vendor, we choose to partner with you to better understand your challenges and your needs, so that we can better serve you. Since 1961, our focus has been on you, our customer. Technology and innovation are the tools we use to help you grow your business and achieve your goals.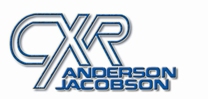 CXR ANDERSON JACOBSON originally founded in early 1974 designs , manufactures, integrates and markets a wide area of transmission and network access products and systems aimed at the telecommunication market .
These LAN / WAN interconnection equipments and systems, over copper, fibre or wireless network, covering speed range from asynchronous to STMx, use state of the art technologies favorable for added value revenue and total customer's satisfaction, witch is the prime objective of the company.25
The company product portfolio includes a range of fiber optic, DSL and voice frequency (VF) modems, ISDN terminal adapters and concentrators, PDH & SDH muxes, Timing System , and interface converters together with an increasing range of IP products including a full range of routers and terminal servers all of which combine to provide the user with a complete end-to-end communication solutions for Utilities , Government , Communities , Telcos , Transportation and Point of Sales .
From Network Timing and Access to Test and Measurement Solutions, the people of CXR ANDERSON JACOBSON worldwide are committed to delivering exceptional value to all of their stakeholders – those groups of people with vested interest in the success of the company .

Established in 1998, DATACOM is the leading manufacturer of network equipment for data telecommunication in Latin America.
DATACOM is proud to regularly supply all Top 10 carriers and service providers in South America.
Export sales have reached more than 30 different countries, including locations in Europe, North and Latin America and Asia. DATACOM's technical and commercial partners can be found in all continents.
Total revenues increased more than 50% over the last 4 years. This upward trend is expected to accelerate in the coming years as the company expands its production facilities.
The fast evolution in the communication industry is closely followed by DATACOM's R&D team. Protocols, interfaces, transmission technologies (TDM, Ethernet, MPLS, IP, Frame Relay, E1, E3, xDSL, SDH) and integrated management are some examples of DATACOM's R&D efforts. Significant investments in human resources made DATACOM the first Latin American industry to develop STM-64 SDH solutions, Metro Ethernet Switches, G.SHDSL modems, STM-1 and NG-SDH multiplatform multiplexers.
MultiTech designs, develops and manufactures communications equipment for the industrial internet of things – connecting physical assets to business processes to deliver enhanced value. Our commitment to quality and service excellence means you can count on MultiTech products and people to address your needs, while our history of innovation ensures you can stay ahead of the latest technology with a partner who will be there for the life of your solution